Introduction
Dipper is aimed car interior light application, based on 32bits ARM , running at 16MHz.
Dipper integrates 64KB Flash, 16KB SRAM, High Power Management Unit, 24 x 16bits PWM ,  constant current source for LED control with 200uA step accuracy .
Dipper integrates LED PN junction detection,Over Voltage and Over Temperature circuit.
Dipper integrates 2 x LIN 2.x/SAE J2602, can be configured as master or slave.
Dipper integrates 1 UART, multi-chips of Dipper can be connected through Indie MilkyWay® to expand the LED numbers.
Parameters
| Parameter Name | Value | Comments |
| --- | --- | --- |
| MCU Core | ARM M0 32-Bit MCU | |
| Flash | 64kB | |
| RAM | 16kB | |
| GPIO | 5 | |
| RGB LED | 8 | Can be extended to 24 |
| PWM | 24×16 bits | |
| Power Supply | 6-19V | |
| Operation Temperature | -40 ~ +125C | |
| Package | 6×6 48pins QFN | |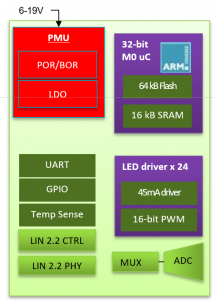 Heading Text