Introduction
The iND81201 is a member of the general purpose microcontroller family of products from indie. It is a highly integrated 32-bit general purpose ARM M0 based microcontroller which clocks up to 20MHz.
The iND81201 features a high performance 32-bit wide ARM M0 core with 160kB of flash RAM and 8kB of SRAM. A real time clock (RTC), 12MHz RC oscillator, 32kHz sleep mode clock, 10kHz auxiliary clock, and watchdog timer are all fully integrated on die for high performance, low power design.
Shmueli includes integrated power management and is capable of running entirely off either a 3V battery or the integrated USB port. No other components are required for power regulation of the IC, creating an efficient, low cost design.
The iND81201 integrates a USB 1.1 (USB2.0 compatible) serial interface supporting control, bulk, and interrupt transfers so that data can be stored and downloaded at a later time.
Parameters
| Parameter Name | Value | Comments |
| --- | --- | --- |
| MCU | ARM M0 32-Bit MCU | |
| Flash | 160kB | |
| RAM | 8kB | |
| GPIOs | 18 | |
| LED Drivers | | |
| RF | | |
| ADC | | |
| ADC Channels | | |
| DAC | | |
| PWM |  2x12bits | |
| Others |  1xUART,1xI2C,1xSPI,1xUSB1.1 | |
| Power Supply | 2.2-3.3V | |
| Operation Temperature | -40C ~ +85C | |
| Package | 7×7 48pins QFN | |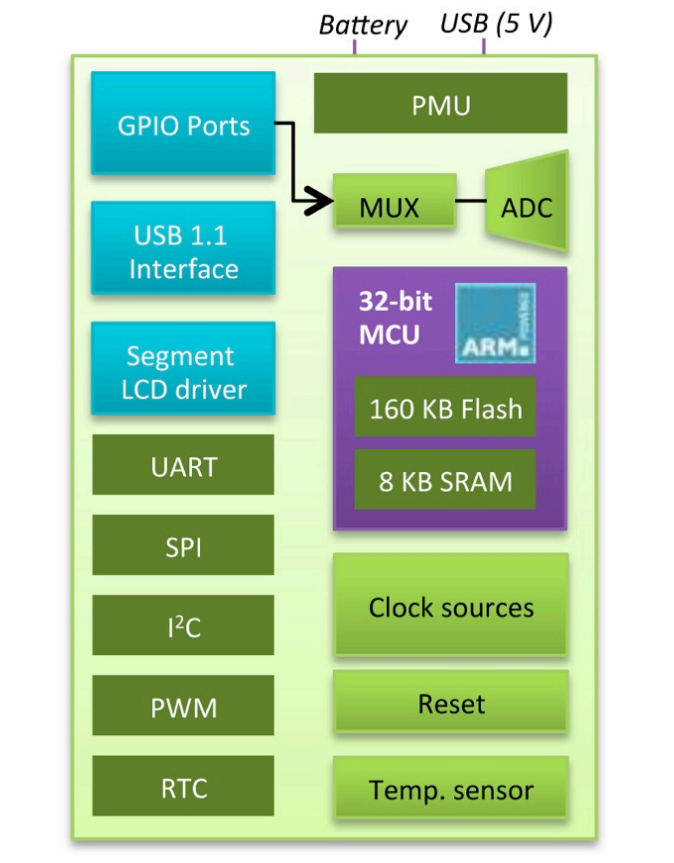 Documentation/Tools