Introduction
The IND83209  consists of two automotive-grade LED-lighting ICs that integrates a powerful 32-bit Arm® Cortex® M0 processor together with everything necessary to implement an interior lighting system. The ICs include a flexible power management system and 3x open-drain LED I/O drivers running at up to VBAT with programmable current and 16-bit PWM, plus specific monitoring features and external interfaces. The iND83209  is designed to be connected directly to the automotive supply and can withstand a 45V load dump from the car battery.
The devices contain 64kB of Flash and 16kB of SRAM.
The integrated power management unit implements two on-chip voltage regulators with only one of them requiring an external capacitor.
The 3x LED drivers each offer a maximum of 60 mA constant current with 100uA steps at high voltage (up to VBAT). An integrated temperature sensor ensures the chip does not exceed its specifications.
There are two LIN version 2.2 transceivers and controllers, and an integrated 10-bit ADC for monitoring purposes. IND83209  comes in a low cost, 4x4mm 20-pin QFN package and is suitable for applications from -40C to +125C.
Parameters
| Parameter Name | value | Comments |
| --- | --- | --- |
| MCU Core | ARM M0 32-Bit MCU | |
| Flash | 64KB | |
| SRAM | 16KB | |
| GPIO | 6 | |
| RGB LED | 1 | |
| PWM | 3x16bit | |
| Power Supply | 6-19V | |
| Operation Temp. | -40 ~ +125C | |
| Package | 4×4 20pins QFN | |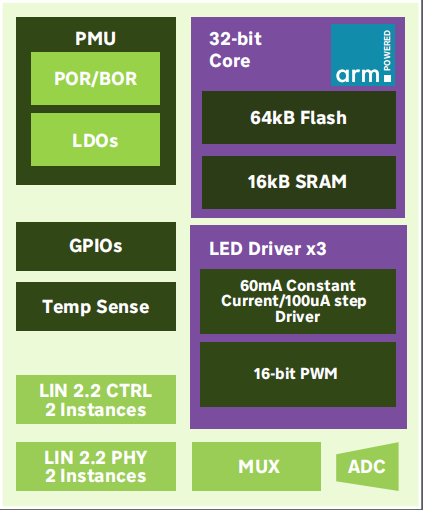 Documentation/Tools